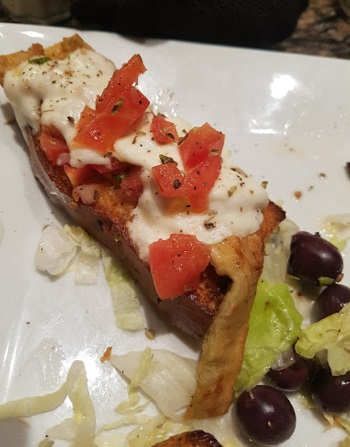 Corporate Deliveries / Private Paries

Let us be your personal chef for your next family event, birthday party, office lunch, and other small events.
We offer a great variety of Italian cuisine that can be picked up or delivered straight to your door. Our catering trays are available in a half tray that's suitable for 8-10 people or a full tray that's suitable for 14-20 people.
Take look at our menu and please make sure to contact us if you have any additional questions. We are here to serve you and make your next special event memorable.
Tuesday – Friday, 11am – 3pm
Minimum order of $30
---
Appetizers Half Tray (8-10 people) | Full Tray (14-20 people)
Chicken Tenders (25) 55.00 | (50) 75.00
Meatballs with Tomato Sauce (15) 25.00 | (30) 40.00
Sausage & Peppers (no pasta) 45.00 | 65.00
Broccoli Rabe 65.00 | 85.00
Garlic Rolls 16.50 | 28.00
Fried Calamari 60.00 | 90.00
Caprese Salad 40.00 | 55.00
Trio Fritto (Mozzarella Sticks, Broccoli Bites, Onion Rings) 40.00 | 55.00
Tomato Pie Party Tray 35.00
---
Salad Half Tray (10-12 people) | Full Tray (22-24 people)
Tossed Salad 40.00 | 55.00
Antipasto Salad 55.00 | 75.00
Caesar Salad 40.00 | 55.00
Grilled Chicken Caesar Salad 55.00 | 75.00
Grilled Veggie Salad 55.00 | 75.00
Pasta Salad 60.00 | 80.00
Tricolor Tortellini, Fresh Tomatoes, Roasted Peppers, Red Onion, Carrots, Cucumber
---
Baked Dishes Half Tray (10-12 people) | Full Tray (22-24 people)
Baked Ziti 50.00 | 75.00
Lasagna Meat or Vegetable 75.00 | 95.00
Ravioli (Homemade) (16) 55.00 | (32) 75.00
Manicotti (16) 55.00 | (32) 75.00
Stuffed Shells (18) 55.00 | (36) 75.00
Eggplant Parmigiana 55.00 | 85.00
Tortellini Alla Carlo 85.00 | 100.00
Gnocchi 50.00 | 75.00
---
Wraps or Hoagies Half Tray (8-10 people) | Full Tray (14-20 people)
Buffalo Chicken 58.00 | 98.00
Grilled chicken strips, buffalo sauce and bleu cheese crumbles
Italian Hoagie 58.00 | 98.00
Capicolla, imported ham, Genoa salami and provolone
Philly Cheese Steak 58.00 | 98.00
Steak meat, American cheese, fried onions, mushrooms and bell peppers, sauce
Chicken Caesar 58.00 | 98.00
Char grilled chicken, chopped romaine, grated parmigiano tossed in Caesar dressing
Vegetarian 58.00 | 98.00
Tomato, lettuce, onion, mushroom, roasted peppers and broccoli
---
Entrée Dishes Half Tray (8-10 people) | Full Tray (14-20 people)
Sausage, Peppers & Onions with Penne Pasta 55.00 | 85.00
Sautéed with Marinara sauce
Chicken Marsala with Mushrooms with side of Pasta 55.00 | 85.00
Sautéed with Marsala Wine sauce
Chicken & Broccoli over Penne 55.00 | 85.00
Sautéed in White Wine sauce
Chicken Cacciatore over Penne 55.00 | 85.00
Sautéed with mushrooms, roasted peppers in Marinara sauce
Chicken Parmigiana with side of spaghetti 55.00 | 85.00
Chicken Francese with side of spaghetti 55.00 | 85.00
---
Pasta Dishes Half Tray (8-10 people) | Full Tray (14-20 people)
Pasta with:
Meatballs 50.00 | 85.00
Meat Sauce 50.00 | 65.00
Sausage 50.00 | 65.00
Marinara Sauce 45.00 | 70.00
Alfredo Sauce 55.00 | 70.00
Vodka Sauce 55.00 | 75.00
Broccoli & Spinach 55.00 | 75.00
Sautéed Garlic in White Wine sauce
Pasta Primavera 55.00 | 65.00
Spinach, Broccoli, Fresh Tomatoes, Mushrooms in a Very Lite Marinara sauce
Pasta Puttanesca 55.00 | 65.00
Mushrooms, Tomatoes, Black Olives, Anchovies, Capers
---
Dessert Half Tray (10-12 people) | Full Tray (22-24 people)
Homemade Tiramisu 50.00 | 85.00
Mini Cannoli 40.00 | 70.00